Affordable Care Act
What Is the Affordable Care Act?
The Patient Protection and Affordable Care Act (also known as Obamacare, ACA, the Health Insurance Marketplace, healthcare reform) became US law on March 23, 2010. The Federal government created the Affordable Care Act to improve healthcare access and options for patients and ensure the quality delivery of services by providers. This legislation, and its resulting policy, was created to strengthen and expand access to and delivery of healthcare services. Midtown Family Medicine is working to incorporate these improvements into our services to benefit you, our patient.
The Kaiser Family Foundation created a quick video outlining the changes and implementation of the Affordable Care Act. We encourage you to enjoy it and then read on.
Benefits of the Affordable Care Act
Some of the improvements that the ACA has created include:
Lowered healthcare and coverage costs for all Americans, especially those who have not qualified in the past
Enhanced access to primary care providers and specialists
Strengthened preventive care and prescription benefits
Extended young adults' coverage under their parents' insurance
Improved coverage to individuals with pre-existing conditions
A ban on lifetime and annual dollar limits that insurance policies have often implemented
The Affordable Care Act will improve Midtown Family Medicine's quality of service delivery. It will not affect our delivery of your treatment and services, how we bill you, the confidentiality of your medical records or how you make your medical decisions.
Because of the Affordable Care Act's new requirements, the quality of coverage that health insurers must provide is much more comprehensive than in the past. All new insurance plans must include the following services:
Ambulatory patient services (outpatient care you can get without being admitted to an hospital)
Chronic disease management
Emergency services
Hospitalizations
Maternity and newborn care
Mental Health and substance use disorder services, including behavioral health treatment
Prescription drugs
Rehabilitative and habilitative services and devices
Laboratory services
Pediatric services
Preventive and wellness services
If your current plan does not meet these new standards of coverage, you may receive a cancellation notice from your insurance company. This is solely because your insurance policy does not comply with the new guidelines.
Medicare recipients will see improved discounts on drug coverage and preventive care access. The new law reduces federal overpayments to insurance companies which provide Medicare Advantage, a private policy, and reinvests it into Social Security and Medicare. There are additional opportunities for those who have not qualified for Medicaid in the past and the Healthcare.gov website can assist you in determining whether you may qualify.
In order to maximize the benefits of the new healthcare law for you, Midtown Family Medicine is working with the Kansas City Metropolitan Physicians Association to obtain our Patient Centered Medical Home status through the National Committee for Quality Assurance. To learn more about this, please visit our Patient Centered Medical Home webpage or the Kansas City Metropolitan Physicians Association website.
How to Apply
One of the benefits of the new healthcare law is the creation of the Health Insurance Marketplace, a new way to access qualified healthcare plans for you and your family. If you don't currently have coverage, would like to consider options different from your current health insurance, or if your coverage does not comply with the new regulations, the Marketplace is designed to assist you in finding quality health coverage. Additionally, with the new Affordable Care Act legislation, you cannot be denied insurance because of a pre-existing condition or your employment status. An insurance company cannot cap its financial coverage of a certain service, based on how often you need to access the care.
Equally important, any information obtained by the Marketplace website, in-person or telephone interviews is protected by all healthcare confidentiality laws.
To be eligible for coverage through the Marketplace, you must be a US citizen and reside in the United States. If you are presently incarcerated, you are not eligible for the Marketplace.
There are several ways to apply for Marketplace coverage and preview which plans and prices will benefit you best. To start, you can visit the federal government's website, www.healthcare.gov.
On visiting the Healthcare.gov website, after answering a few general questions, you can quickly find out whether you're eligible for lower costs on private insurance, Medicaid or the Children's Health Insurance Program (CHIP). (Note: If you come across a Marketplace plan that does not include Midtown Family Medicine among its providers, please let us know and we may be able to work with the insurer.)
If you would like face-to-face, in-person application assistance, please visit the local assistance section of the healthcare.gov website, www.Localhelp.healthcare.gov, and the site will guide you to area agencies whose staff is trained to assist and navigate the application process for you.
To receive telephone assistance with your application, you can call 1 (800) 318-2596 or for TTY services, 1 (800) 889-4325.
Small businesses seeking assistance can contact 1 (800) 706-7893 or for TTY services, 1 (800) 706-7915.
Healthcare.gov also offers its services in a variety of languages, including Chinese, French, French Creole, German, Gujarati, Hindi, Korean, Polish, Portuguese, Russian, Spanish, Tagalog and Vietnamese. To find out more, visit the Healthcare.gov Other Language Resources webpage.
The Healthcare Foundation of Greater Kansas City has created a website, CoverKC.org specific for residents of greater Kansas City. CoverKC has been developed for Kansas Citians to learn about health insurance options specific to the Kansas and Missouri communities. To learn more, visit the Foundation's website at www.CoverKC.org. Through CoverKC's assistance, you may apply online, in-person or by telephone for Marketplace or Medicaid/CHIP coverage.
Marketplace coverage began January 1, 2014. 2014 Open Enrollment has closed. 2015 Open Enrollment for benefits will begin on November 15, 2014. (Please note that these dates are subject to change and you may wish to visit the Healthcare.gov website for updates.) There are some limited exceptions and you should contact Healthcare.gov, either through the website or by calling 1 800 318.2596, to determine if you are eligible for Marketplace or Medicaid/CHIP coverage in the interim.
If you have questions about potential tax credit premiums, individual shared responsibility payments, hardship exemptions or tax penalties, it is essential that you contact a Healthcare.gov representative, either by visiting the website or calling 1 (800) 318-2596 at your earliest convenience to ensure that you maximize your coverage potential and minimize any penalty risks.
In addition to the www.healthcare.gov Marketplace website, the White House also offers a link which provides a comprehensive Affordable Care Act overview. You can visit it by clicking here, White House Health Reform.
TurboTax has also created a nifty infographic which outlines the tax benefits of the Affordable Care Act participation: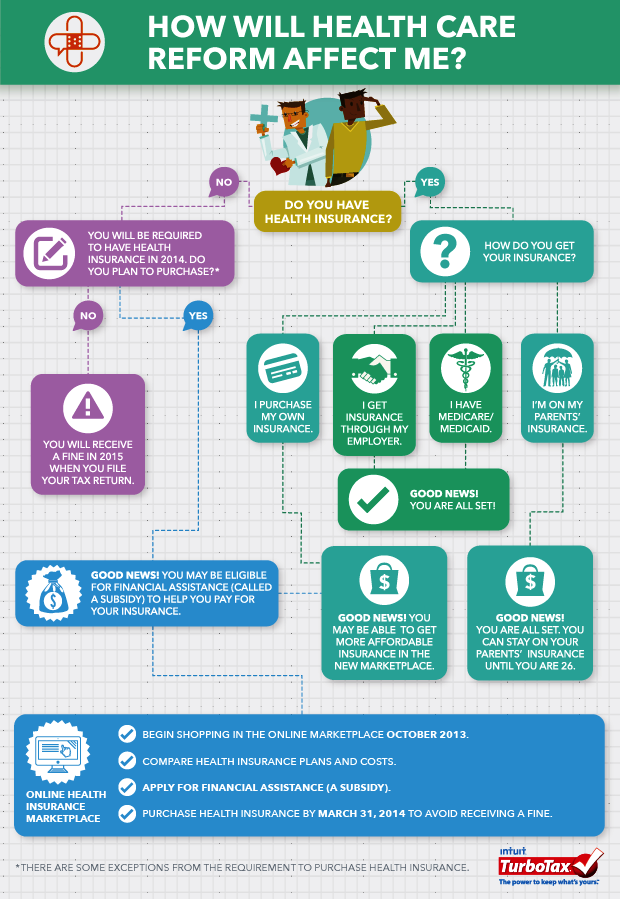 Additional Resources:
These videos can also give you a broad overview of the Affordable Care Act – (click on one of the video pictures to view it):
White House White Board: What ObamaCare Means for You


Affordable Care Act: Explained

The Kaiser Family Foundation: Healthcare Hits Main Street
We are delighted to serve you!