Midtown Family Medicine update 3-17-23
Proud member of KCMPA - https://www.kcmetrophysicians.com/
As your health care providers we recommend that you get immunized with the primary series and the bivalent booster if you have not already completed those steps.
My previous update was on New Year's Day.
MFM has discontinued universal masking as of March 13th. Those that want to mask are encouraged to do so and we will mask with those that request we do so. We will continue to mask with high risk patients (those at high risk for severe infection and death). We are all vaccinated.
It seems we will have COVID-19 with us for the foreseeable future and we continue to experience RSV and Flu. We encourage masking and vaccinations for covid and for flu in high risk situations and for high risk individuals. I do not have predictions as to annual or ongoing boosters for covid. We encourage the bivalent booster for all eligible (12 and older). If you have tested positive and had symptoms then waiting 2 to 4 months after that infection is reasonable.
Covid infections are declining. The "tripledemic" is declining.
If you are going to be around high risk individuals, please mask and help protect those individuals. We are losing over 300-350 people a day to COVID. While the vaccine has proven its protections from death and severe illness we can all still contract an infection and need to quarantine regardless of infection and immunization history. The risk of death and severe infection is two-fold increased for those not vaccinated.
A recent article from the American Journal of Public Health concluded:
The significantly lower rates of all-cause ED visits, hospitalizations, and mortality in the vaccinated highlight the real-world benefits of vaccination. The data raise questions about the wisdom of reliance on natural immunity when safe and effective vaccines are available. (Am J Public Health. 2023;113(1):96–104. https://doi.org/10.2105/AJPH.2022.307112)
The risk from the vaccines for a severe issue is less than one in a million for the m-RNA vaccines.
Regarding Paxlovid, we are setting up telehealth visits to prescribe this medication. Please call and we will get you scheduled. We are hearing from multiple patients each week and we cannot script Paxlovid without a telehealth visit.
Wishing you all health and a happy spring and please reach out to us if you have specific questions regarding your health needs.
Gary Thompson, MD March 17, 2023
COVID-19 Vaccine is not available at MFM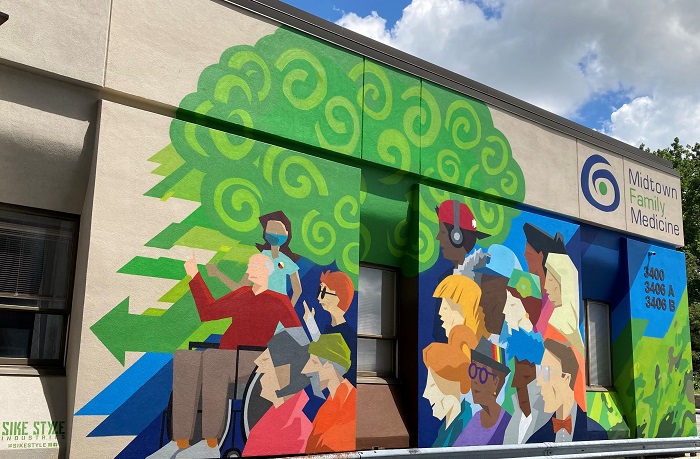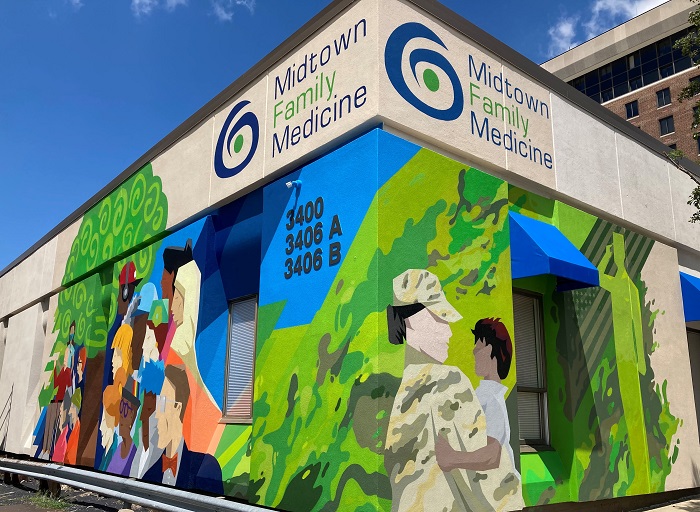 Driving north on Broadway you will be able to see our mural designed and composed/painted by Sike Style Industries. A big thank you to Lazarus Potter as well with Lazarus Design!
MFM is open and seeing patients via telemedicine and in office!
MFM staff have all received both doses and boosters of the Pfizer vaccine. We continue to follow public health guidelines including masking/sanitizing hands and socially distancing. We do not know that we will be completely safe from harboring virus and transmitting the virus. We will be very safe from contracting the virus and dying. This gives our staff a major advantage in protection and safety.
MFM has open patient slots available for patient care every day for in-office and telehealth visits. We are not seeing COVID-19 patients or any patient with symptoms vaguely similar to COVID-19 (or have risk factors for exposure) in the office. We see and manage COVID-19 patients and those at risk with telehealth. For nearly all insurances we can offer telehealth visits. If a visit requires an in-office visit we have refined our processes to minimize exposure.
Masking has been shown to be critical to prevent spread of COVID-19. Out of respect to others and to help prevent further infections in the community we should all wear masks when inside common areas with others again. Wearing or not wearing a mask is not a political statement. I am not sure how best to state this with love and respect. I can state that thousands of health care workers have died due to COVID-19 and we can help save more health care workers lives by wearing masks. I can state that I do not like wearing a mask for so many reasons and I wear it every time I should because we can all be asymptomatic and spread the infection. Please wear a mask.
Upon entering the office breezeway we ask that all patients/visitors wash their hands in the restroom for 20 seconds or use the alcohol hand sanitizer.
We are socially distancing in the office as much as is possible. Please limit the number of family/friends to one or none. If you prefer, waiting in your car until we are ready for you is an option. Call the office on your arrival to the parking lot and we will call you when we are ready for you to come in and take you directly to your exam room after you wash your hands. Please bring a mask or we have masks available as well.
Now maybe more than ever, it is paramount to maintain healthcare provider /patient communication in these unprecedented times as we manage our lives during the COVID-19 pandemic. Midtown Family Medicine has been using telemedicine, which are patient/ provider real time video consultations and in some situations phone only. For many visit types, such as: follow up of infection or injury to ensure you're healing as expected over time, some medication management for depression, anxiety and ADD/ADHD, lifestyle coaching, discussion of lab results, flu/cold and allergy issues, minor urgent care concerns, as well as some chronic disease follow up care for CHF, hypertension and IBD, telemedicine is the next best way to monitor your health. We are also able to perform medicare wellness visits via tele-health.
Simply call our office and we will schedule a visit as always. At your appointed visit time, you will go to our website (here) and click on your provider's name on the left hand side of the page (look to the left of this page), which will connect the telemedicine visit on a HIPAA compliant platform, Doxy.me. Expect to meet with your provider in real time and know that your information will be just as confidential as if you were in the patient room.
In most cases, a video is required to be considered a telemedicine visit and is reimbursed by Medicare and private payer insurances, especially during this pandemic when social distancing is highly encouraged to prevent the spread of the COVID-19 virus. In some rural areas, where broadband internet is a challenge, telephone visits are allowable.
Know that although telemedicine visits in many cases, are encouraged during this global pandemic crisis, in office visits are still available. Know that we are screening all patients before they are allowed in the office building and every measure is being taken to maintain a clean working environment for our patients and staff.
Midtown Family Medicine is actively seeking new patients.
Sydney and Peggy are accepting new patients. Sydney Sigler, APN has joined us full time now as our third Nurse Practitioner. We have availability in our schedules Monday through Friday including "same day appointments". Dr. Thompson is accepting family members of his established patients.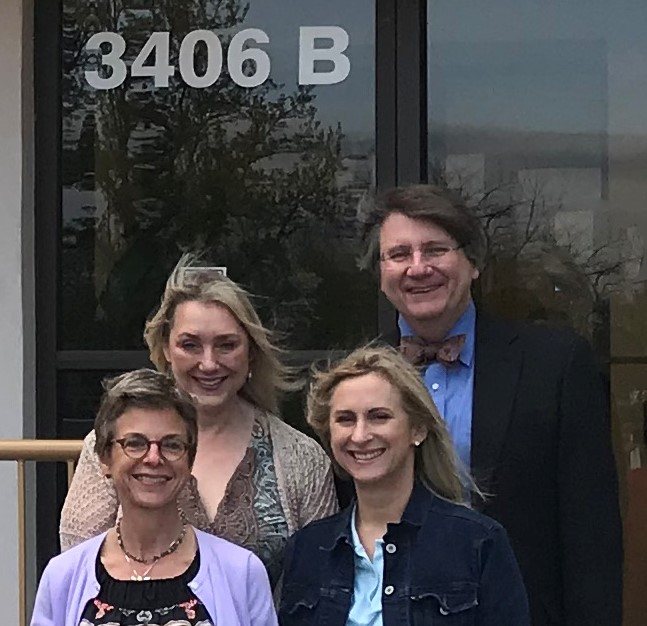 Midtown Family Medicine Providers
Midtown Family Medicine PC is a comprehensive primary care clinic devoted to providing quality healthcare services for you and your family in a comfortable and friendly environment. As your healthcare provider, our mission is to engage in a compassionate and respectful partnership with you, our patient, working with you to develop and maintain your optimal health.
We are pleased to provide you and your loved ones with a wide range of services, from preventive to diagnostic care, tailored to your needs, and delivered with caring and advanced expertise. Working with you, together, we can determine the path your healthcare decisions will take.
Dr. Gary Thompson and the Midtown Family Medicine team have over fifty years combined healthcare experience in the greater Kansas City community. While our experience is key to your healthcare future, we also strive to continually expand our knowledge, education and technological base, to ensure you receive top-quality healthcare services.
At Midtown Family Medicine, OUR PRIORITY IS YOU, our patient, not just your ailment.
Call our offices today to schedule your appointment at (816) 756-5839. Midtown Family Medicine's office is one block south of Kansas City's VFW Building. You can access our parking lot and entrance on the west side of our building from Washington Street. We look forward to serving you.
---
Midtown Family Medicine is on the road to becoming your Patient Centered Medical Home. To learn more about how our status as a Patient Centered Medical Home will benefit you, please visit our Patient Centered Medical Home webpage, by clicking here.